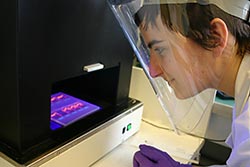 Research, care providers training, patient support: DigestScience actions provide the latest developments in research for patient care.
Medical research
Guided by a high-level Scientific Council, DigestScience supports innovative and ambitious European research programs studying digestive diseases and nutrition.
More information
Care providers training
DigestScience sets up training courses to promote information and knowledge update for care providers. One purpose: optimizing patient care.
More information

Patient Support
Teaching patients about the disease Therapeutic education, during individual counseling or collective workshops, helps patients better manage their condition and improve their quality of life.
More information

Recognizing the diseases
Digestive diseases remain little known by the general public. DigestScience organizes numerous sporting and cultural events to raise public awareness of the disease and of the difficulties experienced by patients
More information